Flu Vaccine
Winter is coming and the flu vaccinations are here. Ring to book in for the flu vaccine. The main questions that we get are who can get them. This year the flu vaccination has been expanded to include children for the first time. We will run a weekend clinic for the childrens flu vaccines starting on the 9th October. Click below to make an appointment.
The flu vaccine is free to
everyone over 65.
All children aged 2-12.
Who should get the flu vaccine?
Vaccination is strongly recommended for:
Coronavirus COVID-19
If you have any respiratory symptoms namely cough, fever , shortness of breath there is a possiblity that you may have coronavirus.
Stop. Do not attend the surgery and ring first to speak to a doctor. This helps protect you and the patients and staff at the surgery.
Phone number is 01- 6901000
If you have symptoms the main step to take is to self isolate and contact us. Here is a link to the information from the HPSC on self isolation. https://www.hpsc.ie/a-z/respiratory/coronavirus/novelcoronavirus/guidance/selfisolationathome/Patient%20information%20sheet%20for%20self-%20isolation%20%20V2.1.pdf
What can you do to protect yourself?
Notice of increase in our fees
Dear patients,
We would like to advise you that there will be an increase in our practice fees with effect from 1st February 2020.
Private Doctors Consult will be €60
Private Nurse Consult will be €35
When should my child return to childcare or school?
It is September and everyone is back to school or childcare and with that comes coughs, colds and other infectious diseases.
This handy poster gives advise on common illness and whether your child needs to stay out of school or not. If you are unsure make an appointment an come an see us.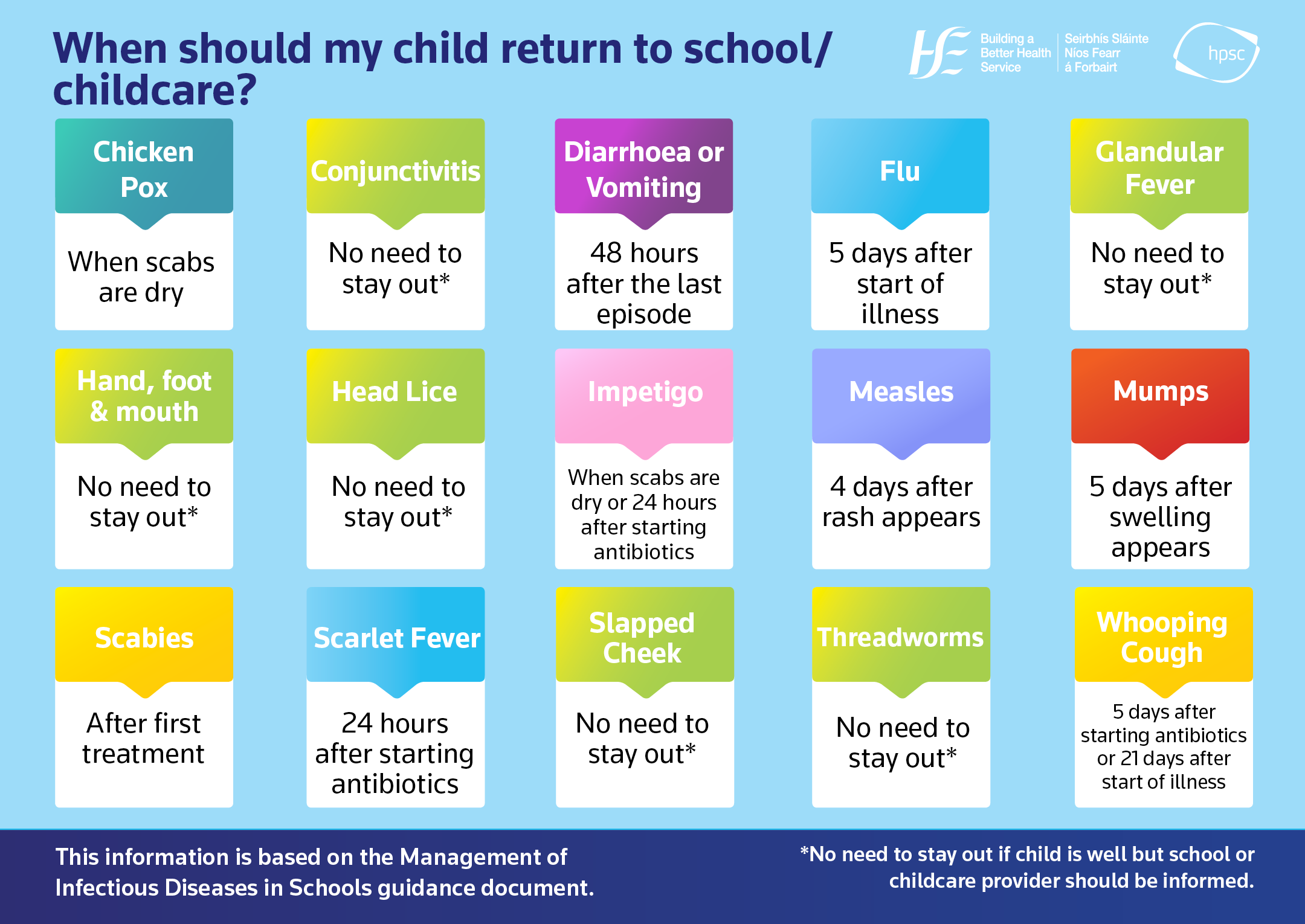 Welcome back Dr Sarah Lobban
Dr Lobban is returning to the practice on the 12/09/2019 after a period of maternity leave. We are delighted to see her back. Her return gives us to opportunity to increase our number of doctor appointments. Dr Murphy who covered part of Dr Lobban's maternity leave is staying on as part of our permanent staff. We are sad to say goodbye to Dr Fiona McKenna has been a wonderful addition to our team, in the past few months. We wish to thank her for all the care and attention she has given to our patients.
We were also sad to say goodbye to Dr Kevin Boner in July. He was our GP registrar from July 2018- July 2019. Kevin had an amazing depth of medical knowledge and has been greatly missed by the patients who saw him regularly during the year. Dr Niall Cronin is our current registrar and is already very much part of the team. In Yew Medical, we enjoy being part of GP training. It is a way of constantly bringing new ideas and people into the practice. We do appreciate the downside of this is that people are missed when the registrar moves on and that this can be disappointing for patients. All of the team wish Dr Boner the best of luck in his future career and hope to see him back in Yew Medical at some stage in the future.
Posted 01/09/2019
HPV vaccination.
HSE has announced that the HPV vaccination will be available for boys as well as girls in first year of secondary school from september 2019.
HPV is the human pailloma virus. In girls the HPV virus can cause cancer of the cervix, vagina, anus and head and neck. In boys HPV can cause cancer of the throat, penis, head and neck and anus.
HPV vaccination is also a cause of genital warts in boys and girls. The World Health Organisation states that the vaccine is extremely safe. Unfortunately there are no plans for a catch up vaccination schedule for boys in second year or above. If you wish to have your son vaccinated please or have any questions please come and chat to us. There have been concerns expressed about the safety of the vaccine in recent years. We have reviewed the data and believe it to be safe. We encourage all our parents to have their children vaccinated.
Posted 01/09/2019
Mumps outbreak in Dublin, Kildare and Wicklow
There is an ongoing outbreak of mumps in the Dublin, Kildare and WIcklow areas. The majority of cases of mumps are in t students and young workers int he 15-24 year old age group. Mumps symptoms include fever, tiredness, headache and swollen salivary glands- swollen appearance to the cheeks and jaw. Symptoms can be managed with paracetemol. Mumps virus can be spread easily so if suspect mumps, please ring in advance and tell us so that we can isolate the patients.
Patients with mumps need to stay at home for the first 5 days of cheek swelling to prevent the spread of infection. Please do not attend ED without ringing in advance.
Mumps is preventable by vaccine , the HSE recommends that all students and people under 40 years shold be vaccinated wtih 2 MMR vaccines. If you haven't had your vaccines or if your child has missed their vaccines please book in for same.
HSE advice on meningitis
There have been a number of cases of meningitis in the recent weeks in Ireland. It is important that children are up to date with their vaccines. Anyone up to the age of 10 can get catch up any vaccines that they have missed. The HSE have advised the Meningitis B disease is common in babies under the age of 1 and the National Immunisations Advisory Committee has never recommended a catch up programme.
If you want to have your children vaccinated for Meningitis B please ring and make an appointment. The fee for each vaccine is €150. Children over the age of 1 will require 2 vaccines at least 1 month apart.
Since 2014/2015 children in 1st year of secondary school have ben offfered Meningitis C vaccination. Any child who did not avail of this or did not consent for vaccination and are still in school can have the Meningitis C vaccination. The school immunisation teams will give at a "mop up " clinic.
Posted 01/02/2019
Welcome Back Dr Niamh Murphy
Dr Niamh Murphy has rejoined the practice since the beginning of December. She worked in Yew Medical Centre as a registrar in 2016 - 2017. She was part of the team when the practice opened its doors. We are delighted that she is joining the team again. Niamh has a special interest in womens health and also in care for the elderly.
Posted 05/12/2018
Cervical Screening: what to do next?
Much has been written about the serious failings in the cervical screening program. The decision of Mary Harney and the HSE to send smears to the US for analysis was wrong. The fact that the detection rate of abnormalities in the US lab was one third lower than the Irish labs should have led to a full review of this policy. 208 women were given a wrong negative result. In some women this has resulted in devastating terminal cervical cancer. Not all of these cancers would have been detected by a perfect screening program but some would have been.
Vicky Phelan who bravely brought this issue to the public domain by suing the HSE and refusing to stay silent, has highlighted the importance of women continuing to have smear tests. Cervical screening in Ireland, even with laboratory failings, has saved lives and reduced the incidence of cervical cancer by 7% per year since 2010.
The HSE has agreed to pay for a smear test for any women who have a concern. As there is no way of clinically knowing if your last smear test was correct, I believe a repeat smear is appropriate. Please contact reception for further advice or an appointment.
Posted 10/05/2018
September and new beginnings
I love September. Schools are now back in full swing. The autumn colours haven't arrived in the garden yet but are eagerly awaited. Summer is so jammed packed with activities and holidays that I welcome September as a time to reflect.
Yew Medical started trading on 12/09/2016. We moved to our new premises on 27/03/2017. This September is a special milestone with lots of reflection. I would like to sincerely thank everyone who has helped us and wished us well over the year. A big thank you also to all the patients who moved with us or have joined the practice since we moved. I would also like to thank Dr Niamh Murphy for all her help. Niamh was on placement with me from July 2016 to July 2017, as part of her 3rd year of GP training. Niamh is a fountain of knowledge and an absolute joy to work with. I will always be grateful for the support and insights she provided me with as I set up Yew Medical. She is now in her last year of training. I wish her all the best in the future. May her life as a GP always be rewarding and fulfilling.
Posted 07/09/2017
BMJ editorial looks at the importance of physical environments on health outcomes
The British Medical Journal on 11/04/2017 has an interesting editorial on how clinical work spaces have a vital therapuetic role. Read more... This is something that we know instinctively to be true. After spending two weeks welcoming patients to my new surgery I am deighted with the positive feedback I have recieved regarding the design and most importantly that patients and visitors feel relaxed in the space. It is lovely to think that this in itself will lead to better health outcomes for all our patients and staff.
Posted 11/04/2017
Opening of our new GP surgery in Balbriggan Primary Care Centre
On 27/03/2017 Yew Medical Centre moved to our new premises on the second floor of the Balbriggan Primary Care Centre, 66 Dublin St, Balbriggan. We had a wonderful first day. It was great to be working from a new building with easy access. We want to say a heart felt thank you to all our family, friends, colleagues and patients who sent cards, flowers and well wishes. Dr Finola, Dr Sarah, Dr Niamh, Nurse Meg and receptionists Leona and Tina are looking forward to many happy years working together and caring for our patients.
Yew Medical centre is hosting an opening day on Saturday the 22nd of April between 10am and 1pm. Nurse Meg will be teaching CPR. Our doctors will be doing free BP checks. It is an opportunity for us to show friends, family ,colleagues and patients our new surgery. Everyone is welcome. You don't have to be a registered patient of the practice to pop in. We look forward to seeing you on the day.
Posted 28/3/2017